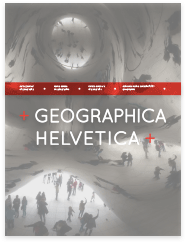 Editorial board: Cristina Del Biaggio, Olivier Graefe, Hanna Hilbrandt, Martin Hoelzle, Myriam Houssay-Holzschuch, Nadine Marquardt & Emmanuel Reynard
Geographica Helvetica, the Swiss journal of geography, publishes contributions in all fields of geography as well as in related neighbouring disciplines. It is a multi-lingual journal, accepting articles in the three main Swiss languages, German, French, and Italian, as well as in English. It invites theoretical as well as empirical contributions. The journal welcomes contributions that specifically deal with empirical questions relating to Switzerland.
News
21 Dec 2021
Season's greetings from Copernicus and review deadline extensions
At the end of the year, we would like to express our deep gratitude for our collaboration with all editors, referees, and authors in 2021. Please take a look at our Christmas card. Since our virtual office is closed from 23 Dec to 2 Jan and a significant number of editors and referees pause their work over the Christmas days, we extended all journal review deadlines: deadlines expiring shortly before or over Christmas have been extended to the week after and deadlines expiring after Christmas or over New Year have been extended to after New Year's Day. Season's greetings and a happy New Year. Please stay healthy.


24 Sep 2021
GH-Journal Lecture mit Camilla Hawthorne: "Black Mediterranean Geographies" bei der GeoWoche
Am 05.10.2021 um 19 Uhr veranstaltet die Geographica Helvetica im Rahmen der GeoWoche eine Journal Lecture mit Camilla Hawthorne zu "Black Mediterranean Geographies". Interessierte sind herzlich eingeladen, an der Veranstaltung teilzunehmen, das Abstract zu lesen und sich bei Interesse für die GeoWoche anmelden, um den Zoom-Zugang zu erhalten.

25 Mar 2021
We welcome a new editor
Geographica Helvetica is delighted to welcome Hanna Hilbrandt as a new editor on the team. The appointment will bring new expertise in urban, social, and cultural geography to the journal. Please find more information on Hanna's work here.